Why Timing is Critical for FLS Sales (And How To Get it Right)

By
Whitney Satin
Fire & Life Safety (FLS) systems seem like the kind of thing that should sell themselves. After all, no property owner wants to see their investment go up in flames. FLS equipment is even required by law.
So, why is it often so difficult to sign new customers? Well, it may be less about what you are selling and more a matter of when.
By law, facilities must undergo regularly scheduled inspection, testing, and maintenance of all FLS systems and equipment. They also must periodically upgrade FLS systems, especially after new constructions or renovations. These regulations create FLS cycles that savvy FLS salespeople can use to time targeted outreach. Let's take a look at a few examples to see:
Since facilities managers are only "in the market" for FLS equipment or services during a short window, sales reps need to be at the right place, at the right time, if they want to close a deal. If you are trying to sell equipment inspection services to a prospect and you don't get the timing right, you could be waiting five years for your next opportunity!
Sales reps who can accurately calculate FLS cycles can home in on properties in their territory that will be most receptive to their pitch at the current moment and identify which leads to contact in the future.
Determine Where Each Property is on Their FLS Cycle
Using the specific regulations relevant to your FLS equipment or service offering, you can plot out the key milestones of your industry's FLS cycle. But to get the most benefit for your sales strategy, you need to determine where each prospect is on the FLS cycle.
Predict when a property manager will be most receptive to your sales pitch by researching key information—such as when a building was constructed, if it had recent maintenance or renovations, when the most recent inspection or upgrade was, property usage, building type information, square footage, and more.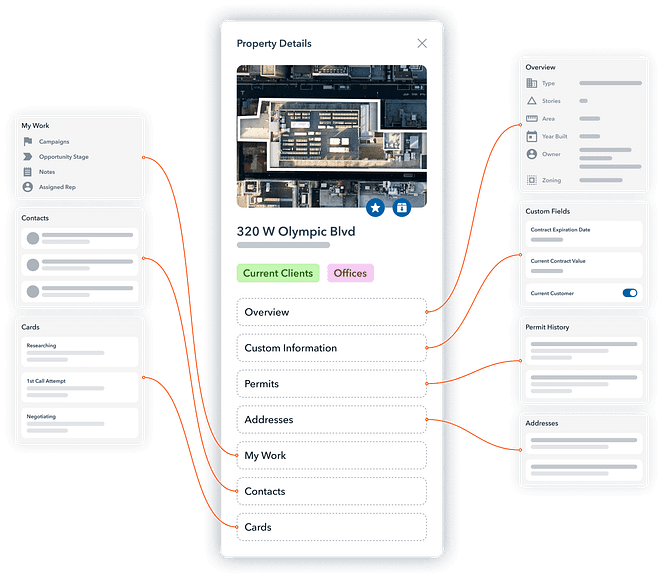 Focus Your Energy on Leads that are Hot Now (and Expand Once You're on the Inside)
A lot of sales reps make contact with a prospect and wait for them to be ready. But once you have determined where each prospect is on the FLS cycle using commercial property data, you can take a much more active, efficient approach—reaching out to properties that are ready now.
With commercial property data, you're not just able to focus on prospects who are likely to sign. You will also be able to make the introduction armed with critical information to help you guide the conversation from the very beginning. So your outreach will be less about cold calling and more about getting right to the hot topics.
And once you're on a client's FLS cycle, it becomes much easier to expand your services later on. Let's say your goal is to sign a big contract with a regional "big fish" with dozens of facilities on its campus or a national client with hundreds of properties across your service area. One of the best ways to get an edge over your competition is to find ways to get your foot in the door and leverage that successful relationship to land the bigger contract when the time comes. For example:
Selling a smoke detection system to a single hotel in Arizona that belongs to a national chain, then using those connections—and your proven record of success—to sign a regional or national deal with the corporate facilities management team.
Contracting with a local university to inspect the fire extinguishers on its satellite campus, then expanding to also provide inspections on the main campus, and finally signing a deal to install the fire sprinkler systems in the new administration building it plans to construct.
Looking at just these couple of examples, you should be able to see how powerful this tactic can be in the long run. And sales reps can further use commercial property data and the FLS cycles to their advantage by more efficiently planning when to reach out to their qualified leads.
Start Building a Relationship Early… But Not Too Early
Decisions about topics as important as FLS equipment and maintenance can take time, so you will need to make contact early enough to nurture the relationship so the prospect feels comfortable signing with your company when the time comes. But since commercial properties upgrade FLS equipment infrequently and often sign multi-year contracts for FLS services, if you start too early you'll likely just be wasting time.
You can use property and owner information to calculate when the best time to make your introduction is based on:
When you expect the prospect will need to change, renew, or upgrade their FLS equipment or services;
How long it takes to finalize a change, including key steps like registering the change with the appropriate authorities, completing site assessments, installation, and certification of the equipment;
How long you think it will take to build the relationship based on the size, type, and structure of the prospect.
Say you're trying to sell fire extinguishers to a small property owner with only one or two buildings under management. In this situation, you may have only one or two people who need to approve the change, and setup might be as quick as a couple of days, if not hours. The whole process of building a successful relationship with the client—from the first handshake when you make the introduction to the handshake when you finally sign the deal—may only take a matter of weeks.
On the other hand, if you are trying to sign a contract to inspect the sprinkler systems of a corporation with a few dozen properties or more, you may need to go through several months of discussions and get buy-in from many different stakeholders before any contract can be signed. In addition to this, you may also need to include several additional weeks for preparation in your calculations so that your team has enough time to get up and running before the scheduled inspection period arrives.
Combine your knowledge of the FLS cycle with information on the property owners and facilities managers, so you reach each lead at just the right time—and not a moment sooner.
Convex Gives You the Data and Tools You Need to Get the Timing Right.
To make the most of the FLS sales cycles, you need access to high-quality commercial property data. The sales intelligence software from Convex provides vital property data with key contact information, as well as tools to set reminders for follow up activity, giving FLS sales reps everything they need to get the timing right.
Schedule a demo today.

Whitney is the VP of Marketing at Convex, with more than 10 years of B2B marketing experience. She's previously led product marketing at AppDynamics and within GE's power business. She holds a bachelor's degree from Harvard and an MBA from Columbia.
Originally published on January 20, 2022 Updated on August 25, 2022