A Closer Look: Spring Release Field Notes
By
Jerome Simmons
Track Activities And Identify High-Value Targets This Spring Release
At Convex, we provide data, insights, and applications specifically designed to accelerate revenue growth for service providers in the business of buildings. Our Commercial Services Platform enables sales and marketing teams to plan go-to-market strategies, target key segments, and engage prospects. This Spring Release, we're providing more ways to identify high-value company sites, connect with decision makers, source opportunities, and report performance.
Here's What's on the Truck This Spring
We're introducing new features this Spring to keep business blooming for our customers. Users of all levels have something to look forward to both from their desk and on-the-go. With these improvements, revenue teams can
Track prospect touch points with engagement activity reports
Email prospects from any Atlas region using Engage Email
Sell smarter from anywhere with updates to Atlas Mobile
Identify ideal companies and their sites with company search
We'll take a dive into each of the new features included in our Convex Spring Release below!
See Key Top-of-Funnel Activities Across Your Team
Reports: Engagement Activity (Available Today)
As the old adage goes, what's important gets measured. This spring, we've introduced a new reporting module that allows users and managers to track prospecting, engagement, and opportunity activities. If your team uses our engagement features, we'll automatically record your engagement activities. This ensures you can track every prospect touchpoint, from the very first outreach!
Engagement activity reports are easy-to-use and provide custom views, so Atlas managers and users can
Track progress toward key engagement activities
Identify areas to improve performance and emphasize prospecting activities
Forecast performance based on activity trends
See performance drivers and encourage greater engagement within teams
By using Atlas Reports, teams get better visibility into performance and can optimize their top-of-funnel.
Email From Any Atlas Region
Engage Email Multi-Region Support (Available Today for Early Access)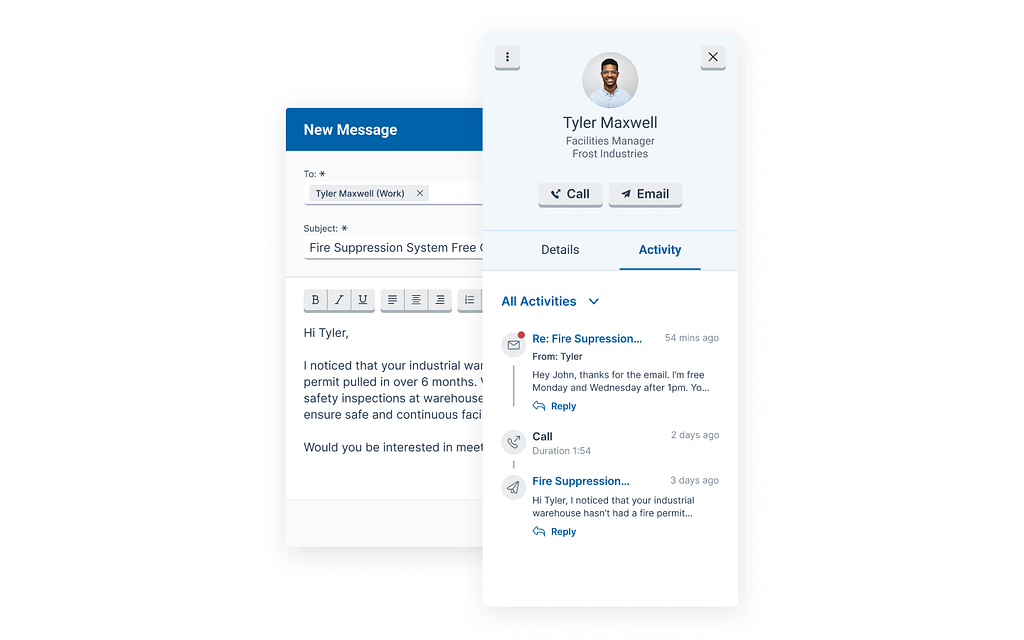 In the Winter Release, we unlocked the ability to send emails directly from Atlas. We've updated our Email feature to allow users to seamlessly send and receive email across any region they prospect in. Users can also
Track prospecting email activities sent through Atlas
Leverage read receipts and reach prospects at the right time
Book more first appointments
For our customers who want to get started just follow the 3 easy steps in this user guide to connect your email: it takes less than a minute!
Sell Smarter, From Anywhere
Atlas Mobile (Available Today)
It's no secret that Atlas changes the game for commercial services sales teams and can increase market share in just a few hours. Customers can take Atlas wherever they are with our Atlas Mobile application for iPhone.
We've updated our mobile application, so users can easily find themselves on the map, call mobile phone numbers, add property information, and move tasks around easily. With these updates, Atlas Mobile users
Get better visibility into territories with improved map controls
Reach decision makers' directly with mobile phone numbers
Give more context to territories and the properties in them
Stay on top of activities in the field with intuitive functionality
With Atlas Mobile, reps can easily find opportunities in the field, manage their work, and generate more business. To download our Mobile Application for iPhone, scan the QR code above or click here to go to the app store.
Uncover Company Sites Across Your Market
Company Search (Available in the coming weeks for Early Access)
According to HubSpot, organizations with a strong ideal customer profile (ICP) achieve 68% higher account win rates. In the past, we've helped our customers focus on their ideal properties and contacts. Today, customers can home in on their ideal companies using Company Search.
Users can search for target companies based on name, location, industry, number of locations, employee count, and revenue. After applying your desired filters, we'll provide a list of company locations and rich intelligence to help you determine the best accounts to engage. With Company Search, Atlas users can
Identify companies that fit your target account profile
Track tenant locations and discover a company's footprint
Find decision makers by company site
Reach companies with relevant insights
Company search offers teams more ways to identify ideal target accounts and a means to prospect more efficiently. Additionally, with data imports and crm integrations, customers have a fast way to increase share of wallet with existing accounts.
Company search will become available to customers in the coming weeks. Please reach out to your customer success team for more details.
We hope you're excited to start taking advantage of all the products and features in this Spring Release! If you'd like to talk with an expert about our solutions, schedule a demo or reach out to your Customer Success Manager.
Seeing Is Believing
If you'd like to learn more about us or see these new features in action, sign up for our webinar, Commercial Services Platform: Spring Release '23, on Thursday, June 1st at 11am PT / 2pm ET.
Jerome is a Group Product Marketing Manager at Convex. Prior to Convex, he led product marketing and go-to-market strategy across different business units at Adobe and worked as a strategy consultant. He holds a bachelor's degree from Grinnell College and an MBA from the University of Chicago.
Originally published on May 15, 2023 Updated on July 18, 2023