A Closer Look: Fall Release Field Notes
By
Jerome Simmons
New Ways to Target and Engage Prospects with the Convex Fall Release
At Convex, we help our commercial services customers accelerate revenue growth by optimizing the start of their sales process. Every day, revenue leaders depend on our platform to plan go-to-market strategies, target key segments, and engage prospects. We're continually innovating our Commercial Services Platform and developing new and better ways to serve our customers: this Fall Release is no different.
Here's What's on the Truck This Fall
Like the leaves in the trees, our Commercial Services Platform is changing to offer more ways to target and engage with prospects. This fall, we're enabling revenue teams to:
Sell smarter from anywhere with our newly redesigned Atlas Mobile app;
Uncover decision makers by county by applying improved county search;
Track critical sales information with file attachment for Accounts and Opportunities;
Gain greater access and flexibility over your pipeline data with CSV export for Accounts and Opportunities;
Prospect the entire United States, including better pursuit of national accounts, using Unified Map View.
We'll take a deeper dive into each of the new products and features included in our Convex Fall Release!
Sell Smarter, Anywhere
Atlas Mobile (Available Today)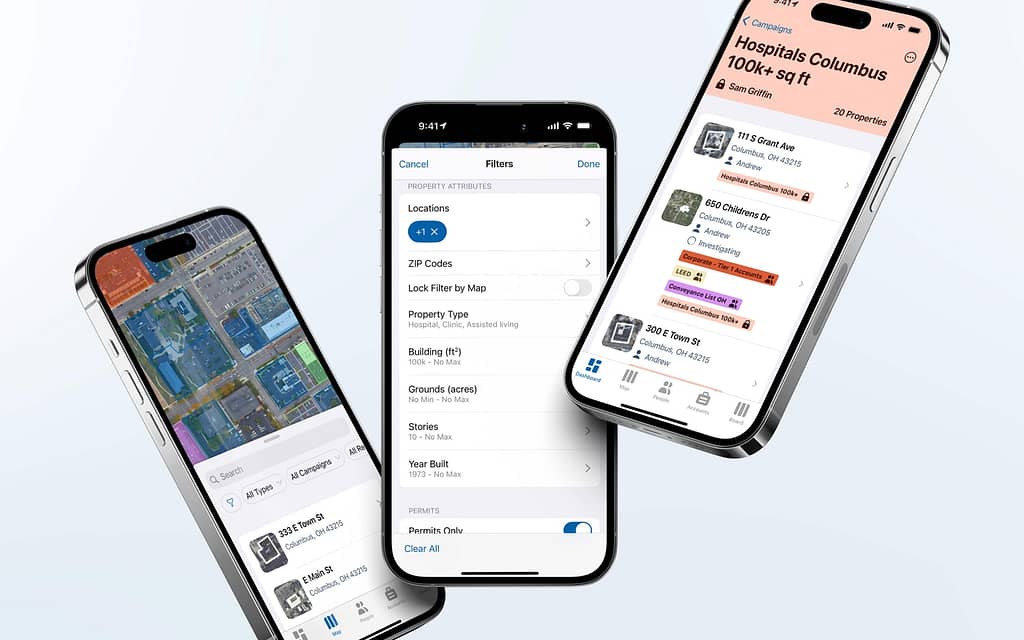 Searching for the right leads is one of the toughest parts of sales as 46% of B2B sales reps list lead quality as a top challenge. Atlas provides reps with game changing intelligence to target and engage prospects across territories. We know reps are out in the field visiting sites, which is why we're helping bring Atlas wherever you are with our newly redesigned Atlas Mobile application for iPhone.
The new application provides a state-of-the-art user interface, filters to perform property searches, a refined contact information experience, and so much more. All from the palm of their hand, reps can:
Target ideal properties nearby or on the way to an appointment;
Find and reach out to decision makers from the road;
Research contact and property profiles while on the go.
Our iPhone application empowers reps to exceed targets by prospecting for new business, intelligently pursuing the right opportunities, and managing their activities in the field.

Uncover Decision Makers by County
Improved County Search (Available Today)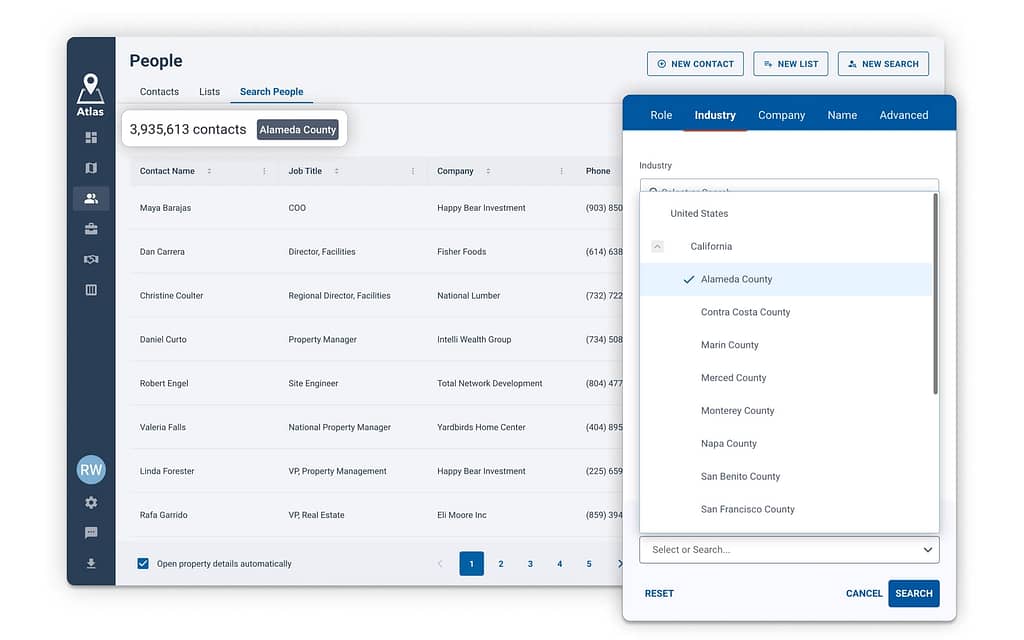 At Convex, we're always looking for ways to improve the speed and accuracy of our data to make go-to-market teams successful. With improved county search, we're helping sales organizations more quickly engage the right decision makers in the counties they serve. Now, reps can:
Pursue key contacts within target counties, faster;
Target key decision makers within a specific county.
With this feature, reps get even better visibility into their territories to reliably identify and connect with their target buyers.
Keep a Reliable Record on Prospects
Accounts & Opportunities: File Attachment (Available Today)
Sales teams that effectively leverage tools to manage sales assets report "win rate improvements of 4 percentage points"(Sales Enablement Analytics Report, 2020). Successful sales teams stay organized throughout the sales cycle. For this reason, we've enabled file attachment as part of Accounts and Opportunities.
With file attachment, reps can upload multiple files – site visit photos and videos, proposals, and more – to an account or an opportunity to stay organized by creating a reliable reference for their sales activities. This new feature helps reps efficiently:
Reference documents to help close a deal;
Get up to speed quickly on deals in the pipeline;
Give leadership visibility with more details into the sales process.
With a more organized reference system, reps can intelligently pursue targets by keeping a reliable system of record on prospects. Atlas users can better manage sales activities and more effectively execute the sales cycle.
Gain Greater Access Over Your Pipeline Data
Accounts & Opportunities: CSV Export (Available Today)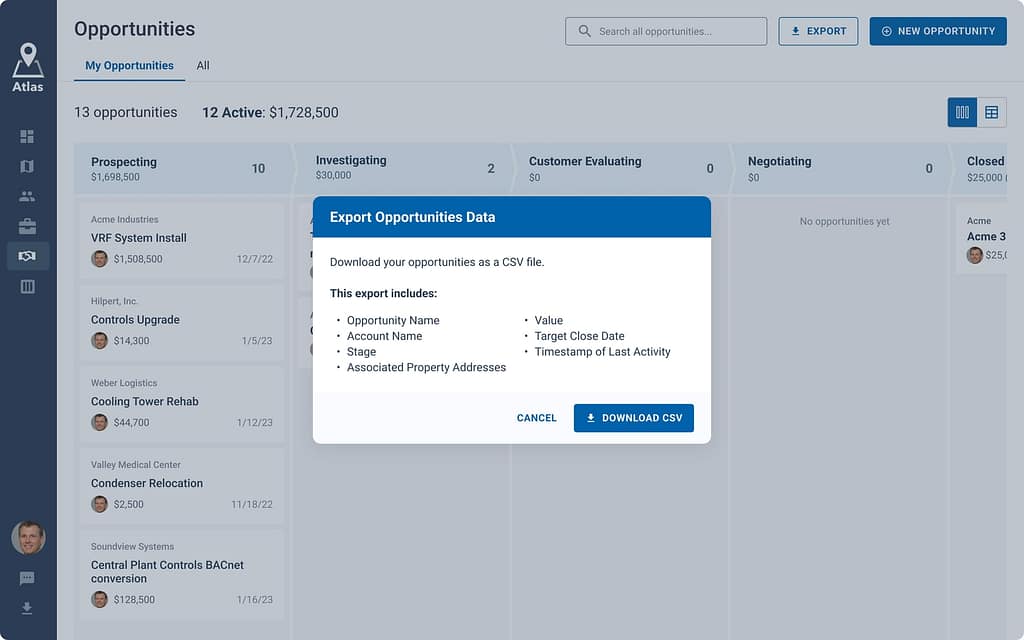 At times, revenue leaders need to work with raw data in their accounts and opportunity pipeline. Open and extensible, CSV files are the most universal data format enabling usage across multiple programs such as spreadsheets. For this reason, we've enabled our Atlas Account and Opportunity users to export their data into an CSV file so they can:
Transfer account and opportunity data wherever needed;
Prepare data for custom analysis and reporting.
Successful revenue leaders need clear visibility into their accounts and opportunities so they can plan, forecast, and understand their sales pipeline. With CSV export, we're providing revenue leaders with more control over their data and the resources to navigate their sales process more effectively.
We hope you're excited to start taking advantage of all the products and features in this fall release! If you'd like to talk with a product expert about our solutions, schedule a demo or reach out to your Customer Success Manager.
Prospect the US, Seamlessly
Unified Map View (Available Today for Select Customers)
A bigger prospect pool means more opportunities to win best-fit customers. With over 64 million commercial property records across the United States, we wanted to provide an uninterrupted, smooth experience to prospect all of them through our Unified Map View.
This new functionality offers the ability to quickly search across the country. All from one login experience, we've enabled users of Unified Map View to:
Prioritize and design territories with a national vantage point;
Target and compare ideal customers coast to coast without interruption;
Build rapport with prospects that are the best-fit for your business among all opportunities in the US.
Pursuing national accounts has never been easier. We've found a way for Atlas users to make even better decisions and increase sales performance with our deepest prospect pool.
Seeing Is Believing
With year-end around the corner, make sure you're setting yourself up for success in 2023 and sign up for our webinar, 3 Go-To-Market Strategies to Win in the New Year, on Wednesday, November 16th at 11am PT / 2pm ET.
Jerome is a Senior Product Marketing Manager at Convex. Prior to Convex, he led product marketing and go-to-market strategy across different business units at Adobe and worked as a strategy consultant serving clients in the utility industry. He holds a bachelor's degree from Grinnell College and an MBA from the University of Chicago.
Originally published on November 8, 2022 Updated on July 18, 2023