A Closer Look: Fall Release Field Notes
By
Jerome Simmons
Target Companies Actively Researching Your Services
At Convex, we provide data, insights, and applications specifically designed to accelerate revenue growth for service providers in the business of commercial buildings. Our Commercial Services Platform enables sales and marketing teams to more impactfully plan go-to-market strategies, target key segments, and engage prospects. In this Fall Release, we're offering new ways to identify high-value company sites and reach decision makers at the right time, with intent data for the built environment.
Here's What's on the Truck This Fall
Atlas makes hunting and harvesting accounts easier than ever, with new map-based functionality and AI-powered intent data! We're "a-maize-ing" teams this fall with new products and features that empower sales and marketing professionals to
Find prospects actively researching commercial services
Target company sites on a map, based on key criteria
Manage opportunities and grow accounts on the road
Plan efficient travel routes to customer locations
We'll take a deeper look into all of the new products and features included in our Convex Fall Release below.
Engage Prospects Actively Seeking Your Services
Convex Signals (Available today, additional purchase required)
We've built an intent data solution for commercial service businesses that finds accounts actively looking up services and solutions for commercial buildings. You're probably wondering, what is intent data?
Intent data informs you when an organization shows interest in your service or solution. Before making an important purchase, people in an organization go online to research the topic (i.e. read articles, register for events, etc.). Intent data analyzes the online research activities for a given topic, and notifies you when an organization is likely in-market for your services and solutions.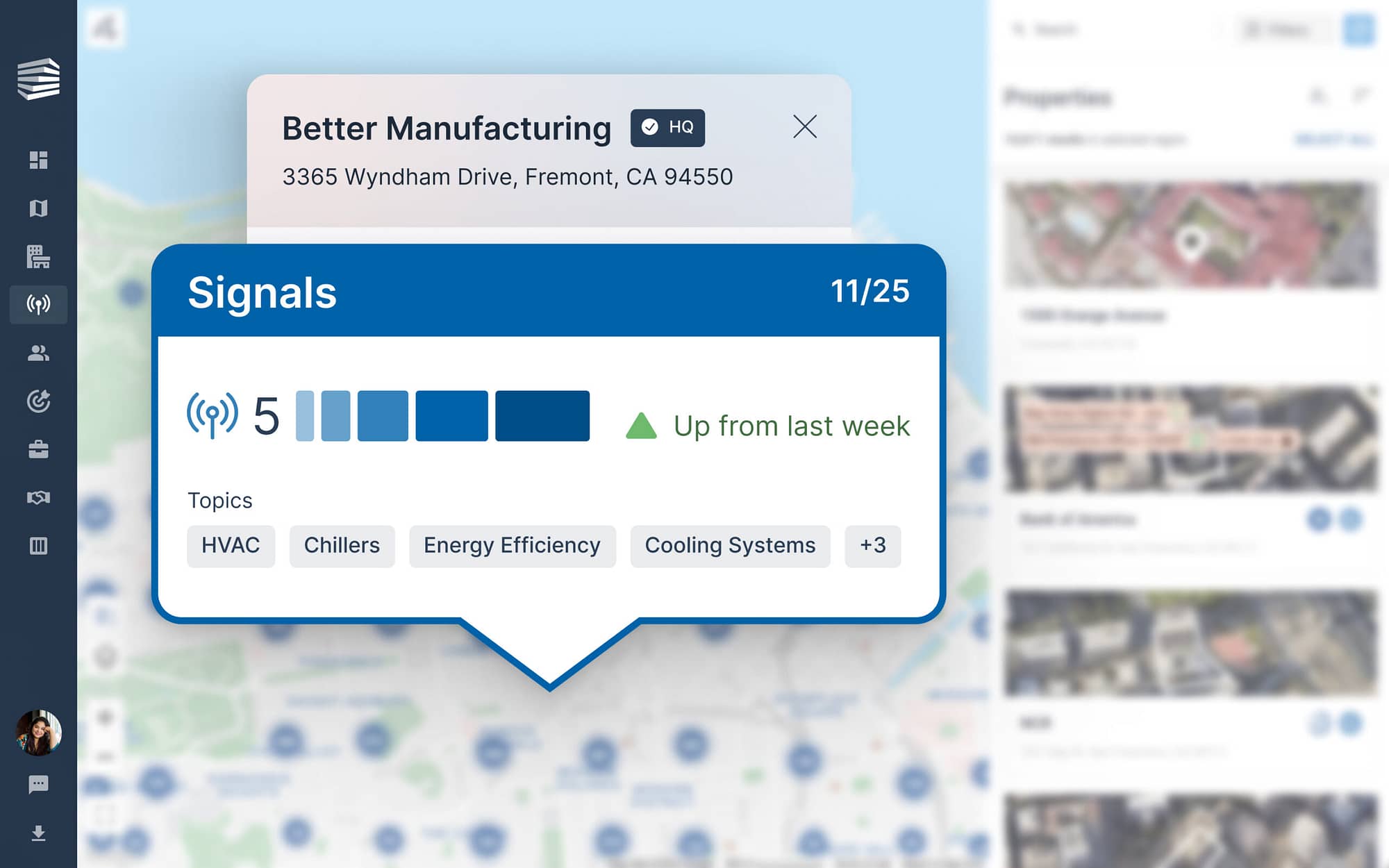 Convex's intent data solution specializes in commercial services topics across HVAC, FLS, Security, Janitorial, and other industries. Relying on our AI, Signals identifies intent data coming from company sites and the potential buyers of commercial services. With this one-of-a-kind product, teams
Find companies showing intent, every week
Reach accounts early and before competitors
Prioritize high-potential accounts and manage time better
Personalize engagement and lead with the right solutions
Uncover existing customer needs and reduce churn risk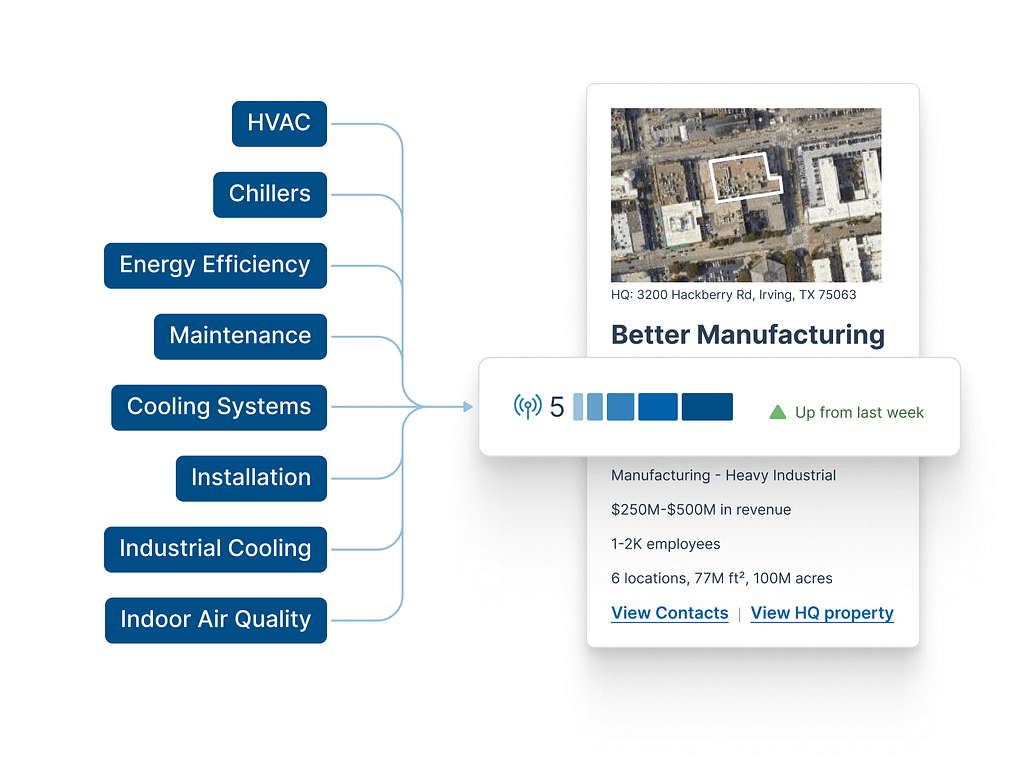 With Signals, selling commercial services and solutions gets a lot more efficient. In fact, 96% of customers achieve their goals with intent data. And 50% of intent data users say it improves sales and marketing alignment and has become a strategic growth pillar. Teams expand pipeline, shorten sales cycles, and increase revenue.
Too good to be true? Schedule a demo and see it in action!
Map Your Target Company's Sites
Company Search (Available today, additional purchase required)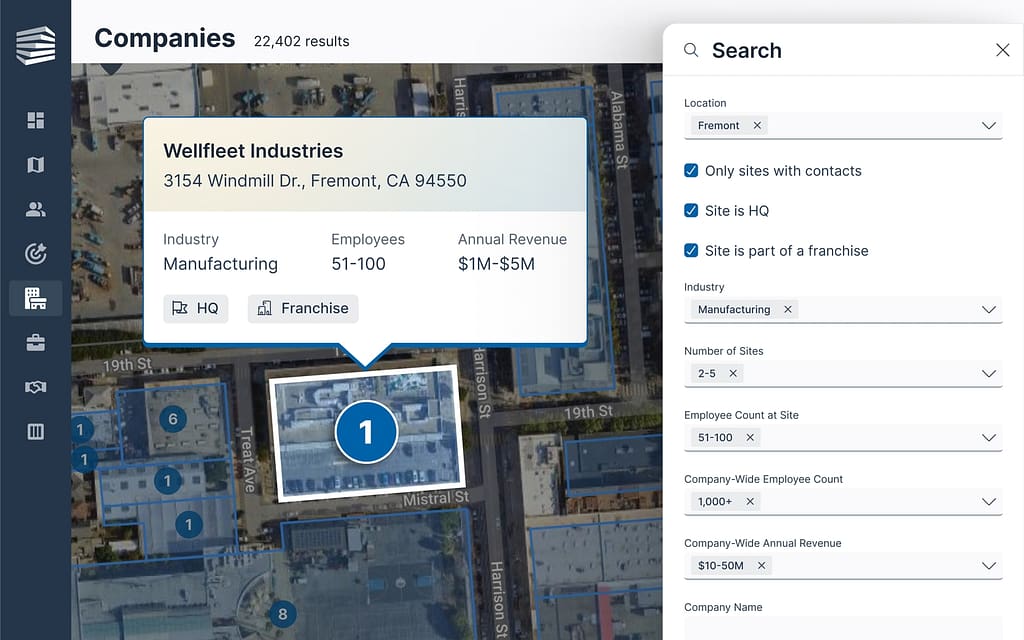 Convex customers love using a map to understand their market, which is why we've given Company Search a map-based interface this fall! With this new functionality, sales and marketing teams easily filter for their target companies and quickly find them in a map or table view, whichever you prefer! This powerful upgrade, lets users
Chart companies within their target account profile
See tenant locations and plot an account's entire footprint
Visualize where decision makers work at specific accounts
With Company Search, account-based marketing finally works for all commercial service sellers! Want to target Costco throughout the United States, for roofing maintenance? Just type it in!
Need to call office building tenants for commercial cleaning services? We've got you covered.
Need to help field teams minimize downtime between site visits by finding valuable accounts in the area? Done.
When teams import their account information into Atlas, account managers can even find penetration gaps in their existing accounts. Atlas is revolutionizing commercial service sales. Learn more and talk with an expert today!
Manage Your Sales Cycle on the Road
Atlas Mobile (Available Soon)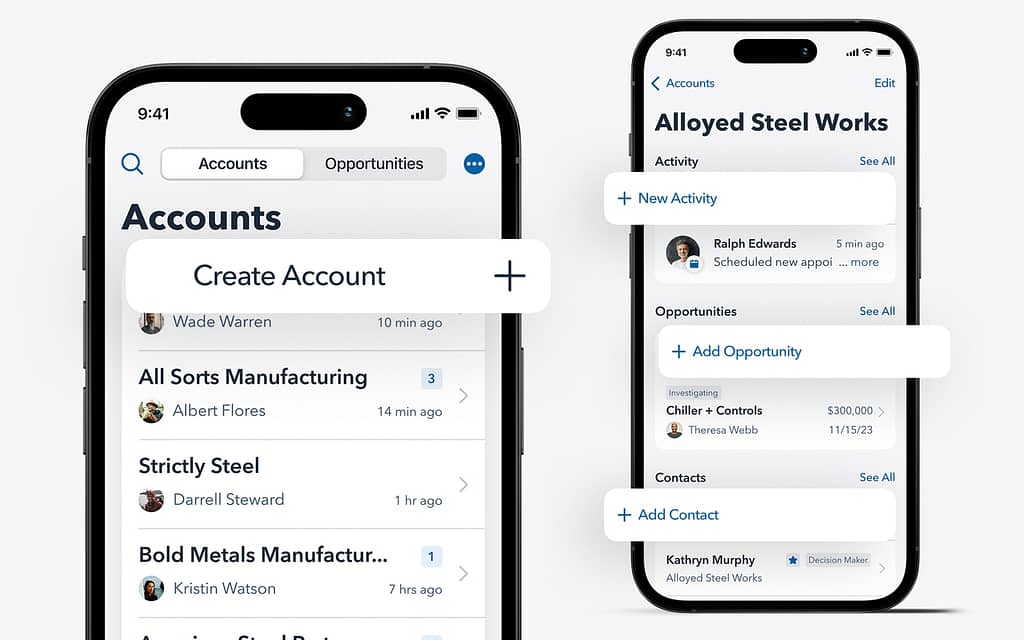 This fall, we've updated our mobile application, so sellers can update their accounts and opportunities from their mobile device. This new feature empowers our mobile users to:
Create accounts and opportunities
Add contacts to accounts and opportunities
Add activity notes to account and opportunities
Update the status of your sales pipeline
With these updates, teams prospect more efficiently from the field, better track pipeline, and improve sales performance. To download our mobile application for iPhone, scan the QR code below or find it in the App Store.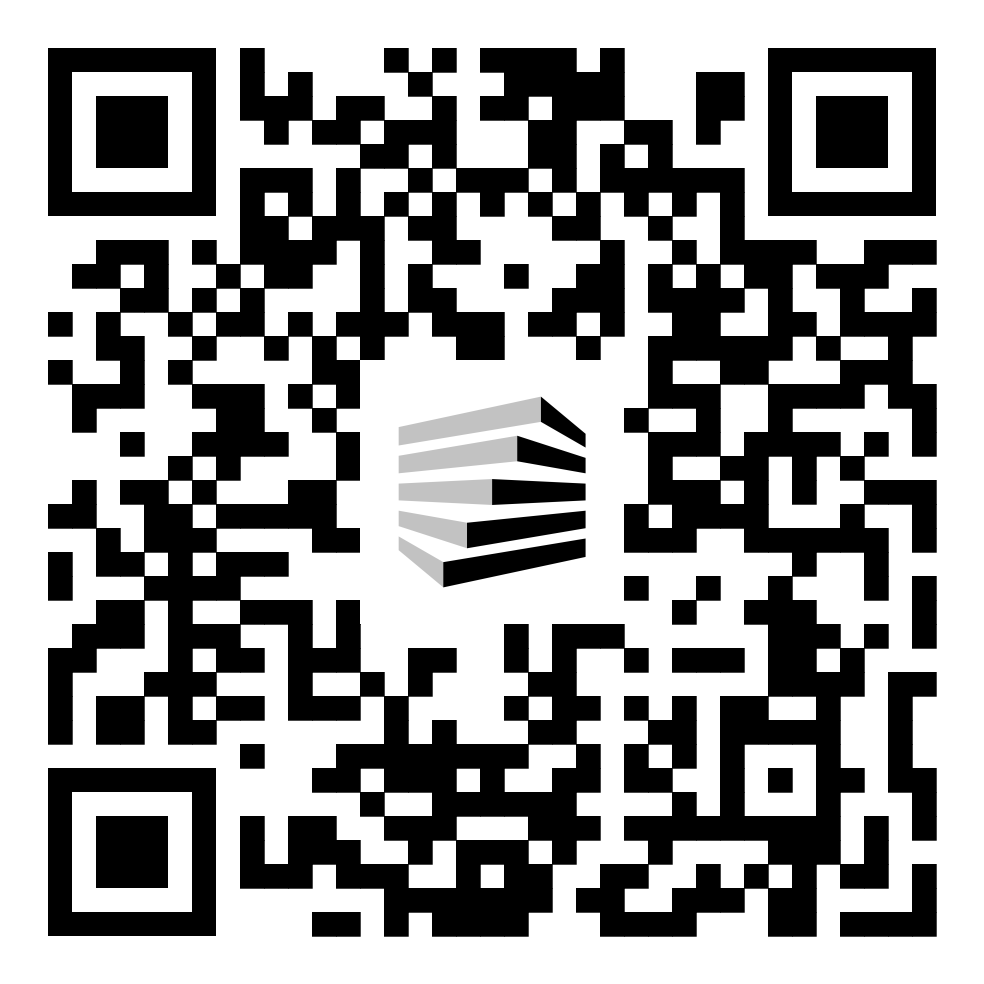 Plan efficient travel routes to customer locations
Atlas Mobile (Beta)
Lastly, we've delivered a beta release of Route Planning for Atlas Mobile. This functionality enables our mobile users to optimize their customer visits based on geographical proximity, traffic conditions, and their own preferences. This is our first mobile-specific feature for Atlas and we are excited about the productivity boost this feature will deliver for field sellers.
Route Planning for Atlas Mobile is currently in a limited beta to help us gather some customer feedback before we make it available for all customers. Please reach out to your customer success manager to join the waitlist to be first in line for this new solution.
We hope you're excited to start taking advantage of all the products and features in this Summer Release! If you'd like to talk with an expert about our solutions, schedule a demo or reach out to your customer success manager.
Seeing Is Believing
If you'd like to learn more about Convex, intent data, or see these new features in action, sign up for our webinar on Thursday, November 30th at 11am PT / 2pm ET.
Jerome is a Group Product Marketing Manager at Convex. Prior to Convex, he led product marketing and go-to-market strategy across different business units at Adobe and worked as a strategy consultant. He holds a bachelor's degree from Grinnell College and an MBA from the University of Chicago.
Originally published on November 13, 2023 Updated on November 13, 2023