SELL SMARTER
INDUSTRY INSIGHTS
The Path to Intelligent Commercial Services Sales: The Opportunity
By
Jerome Simmons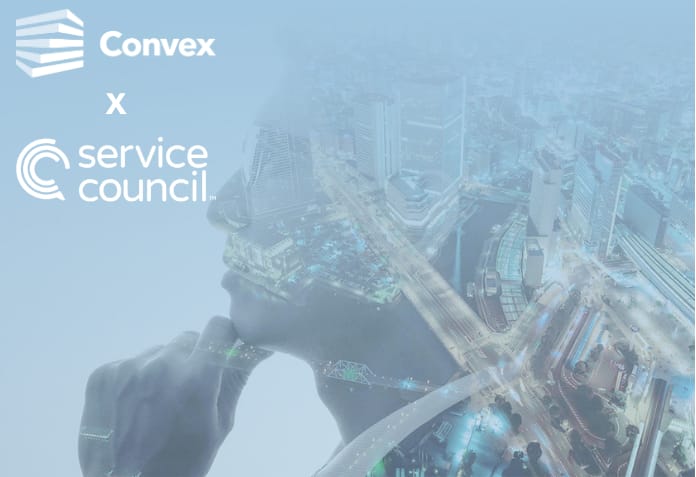 We've partnered with the Service Council to help commercial services organizations navigate their journey to intelligent commercial service sales. Many companies operate in the business of buildings and there's significant opportunity for service organizations that invest in their sales motion. We'll discuss the importance of sales in commercial services, as well as the pitfalls, and opportunities for service organizations. In this first of three blog posts, we'll make the case for service sales and where the industry is heading.
The Opportunity for Service Sales
For many companies operating in the business of buildings, the landscape of service revenue is evolving, presenting a lucrative opportunity for businesses. Historically, many organizations have considered service teams as a cost center. This notion is a relic of the days of reactive service models, when field service technicians generated revenue upon receiving a phone call and fixing broken equipment. Although reactive service models are still prevalent, these offerings are becoming less of the norm. In reality, service teams are a significant profit driver for many organizations.
This is because services are a high margin business. In the Service Council's 2022 KPIs and Metrics Survey, best-in-class organizations achieve "a 43% service profit margin, while average performers are 31%". With these kinds of profit margins, organizations particularly in manufacturing have shifted their sales motion toward services. According to research from Deloitte, 40% to 50% of US Manufacturing profits come from aftermarket services and often "new equipment is no longer sold to generate profits for the firm, but to fuel the future after-sales business on the installed base." However, this kind of success does not come easily. Many successful organizations have achieved these profit margins by relentlessly focusing on process efficiencies and other cost reduction initiatives.
A Deloitte analysis revealed that the operating margin on services revenue increased significantly, expanding from 15.5% in 2005 to an impressive 23% in 2018. In contrast, product and equipment sales experienced a modest rise in operating margin from 7% to 9% over the same time period. This significant growth has led to a 7% increase in revenue contribution from service sales, over the same thirteen year period. This is a significant shift, when considering the billions spent on products and equipment each year. Moreover, this shift in focus demonstrates the potential for commercial services businesses to capitalize on the service side of their business.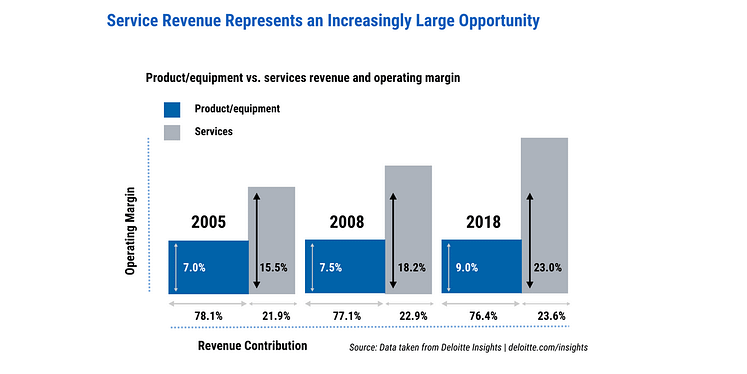 As service organizations have developed over the years and technology has evolved, so have the sources of service revenue. Traditionally, service businesses have operated under a break-fix and reactive model. However, many successful service organizations have pushed the boundaries of reactive services and into more proactive and outcome-based services. Many building owners opt for performance-based contracts in order to maximize the uptime of their assets. Field service technicians have also adopted more consultative roles through inspections and certification programs that demonstrate certain performance levels. As the industry continues to adapt to customer preferences and adopt outcome-based service models, technology has advanced enabling emerging service models.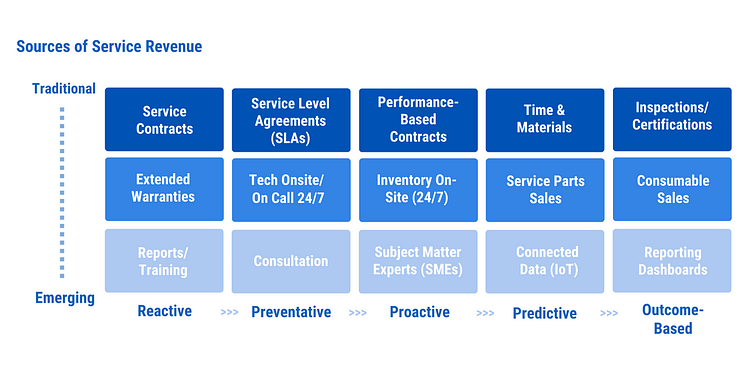 With the development of Internet of Things (IoT) enabled equipment, the business of buildings has become increasingly sophisticated changing the way that services organizations engage with their customers. New technologies enable service technicians to remotely monitor equipment vibrations, temperatures, and other data points in order to assess equipment performance. Upon detecting anomalies, technicians can proactively reach out to asset owners and schedule a field visit. Advanced equipment manufacturers such as Siemens have developed solutions such as the Sitrans SCM IQ, which detects anomalies through machine learning! Moreover, these innovations reliably detect failures early, which prevent expensive downtime for high-value assets commonly found in commercial spaces such as industrial or healthcare facilities. These emerging services are regularly paired with reporting dashboards, which give facility directors more autonomy as well.
Although these futuristic innovations are available in the market, many service organizations are still developing their service offerings to support these emerging, outcome-based offerings. Virtually all service organizations have adopted the classic break-fix model. Only 69% of companies have achieved proactive service levels and 44% of companies have achieved outcome-based service levels. This leaves significant room for service providers looking for ways to expand their business, grow sales through new product lines, and expand margins. Many of these new service models create more predictable service cycles, which translates into more profitable growth through service operations and performance management.
Interested in learning more?
Sign up to download the Service Council research insight
Read the next part in the blog series: The Power of Innovative Service Models for Organizational Growth
Learn about how Convex can help grow your service business.
Jerome is a Senior Product Marketing Manager at Convex. Prior to Convex, he led product marketing and go-to-market strategy across different business units at Adobe and worked as a strategy consultant serving clients in the utility industry. He holds a bachelor's degree from Grinnell College and an MBA from the University of Chicago.
Originally published on July 3, 2023 Updated on July 3, 2023